Anchor Floors Your Cedar Park Flooring Destination
Do your floors appear outdated and worn down? Do you want to refresh the look and feel of your home? If so, it may be time to consider new flooring installation and replacement solutions!
Anchor Floors is proud to provide homeowners in Cedar Park, Round Rock, Georgetown, and the surrounding areas with top-quality flooring installation services. Our licensed contractors are highly experienced in installing a wide variety of flooring options, including hardwood, tile, vinyl, and carpet. We aren't your regular flooring contractor– we work with our clients to help them decide on flooring solutions that fit their needs, style, and budget. When you choose Anchor Floors, you'll give your home a beautiful, renovated look at an affordable price.
Why Choose Anchor Floors as Your Flooring Contractor?
Floors are one of the first things that people notice when they enter a home. That's why it's important for Cedar Park homeowners to consult with a trusted flooring company when they go through the flooring replacement process. Here at Anchor Floors, our contractors will work tirelessly to achieve the flooring aesthetic and level of comfort you're searching for.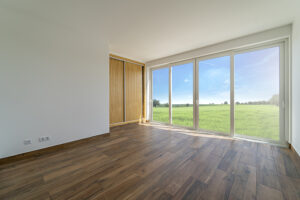 As a local Cedar Park flooring company, we are committed to providing homeowners in our communities with quality flooring installation that lasts. From the time you step into our showroom to the moment the work is finished, our professional team will do everything possible to ensure that you're completely satisfied with the results. When you need reliable flooring services in the Cedar Park area, you can trust Anchor Floors.
Our Professional Flooring Process
Anchor Floors is a full-service flooring company dedicated to providing quality results every time. In addition to our professional flooring installation services, our licensed contractors will help you find the products that best fit your home's needs. We offer a range of styles and materials from hardwood to tile to ensure that we can install flooring that fits your taste. If you're thinking of upgrading your carpet to hardwood or installing new tile to make your bathroom feel more modern, Anchor Floors can provide you with the flooring solutions you need.
As soon as you arrive at our Cedar Park showroom, our friendly representatives will work alongside you to compare different materials and discover which flooring style is right for you. Next, we'll review pricing and figure out the flooring sales that work for your individual budget and needs. Our team will go the extra mile to ensure that all of our clients get the services they want at the prices they need.
After helping our clients find the floors of their dreams, our team will work quickly and efficiently to have the flooring installed as soon as possible. During installation, our contractors will pay close attention to the details to ensure that the flooring stands up to everyday wear and tear over time. The team at Anchor Floors is highly experienced, fully insured, and dedicated to providing homeowners in Cedar Park and the surrounding areas with reliable flooring services. We offer:
● Hardwood
● Vinyl
● Tile
● Carpet and more!
Cedar Park's Preferred Flooring Company
Anchor Floors is committed to providing homeowners in Cedar Park, Round Rock, Georgetown, and the surrounding areas with unbeatable quality and terrific results. From material selection to flooring installation, our knowledgeable staff can assist with the entire process and help you find the perfect flooring to bring your home back to life. Hundreds of our clients agree: we are the best flooring contractor in the North Austin area.
To learn more about our wide variety of flooring services, give us a call or make an appointment online. Our team is always happy to help with your flooring needs.